Bluebottle USVs, BO-MTS AUVs and JASCO Applied Sciences demonstrate cutting edge real-time acoustic marine mammal monitoring
05 October, 2023
In September 2023, Ocius Technology, JASCO Applied Sciences Australia, and Blue Ocean Marine Tech Systems (BO-MTS) combined to demonstrate the near real-time detection, classification, and tracking of marine mammals using uncrewed surface vessels (USVs) and autonomous underwater vehicles (AUVs) off the coast of Perth, Western Australia. The five-day demonstration focused on detecting humpback whales during their southern migration.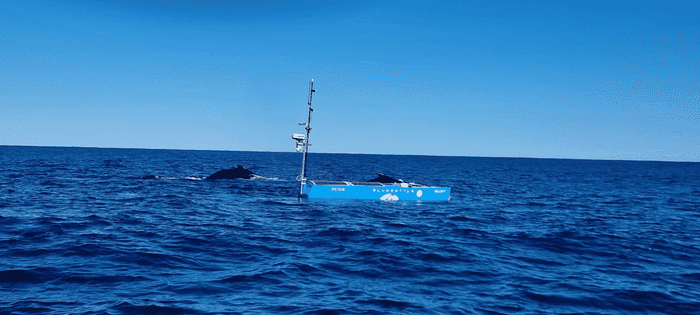 Ocius Bluebottle USV fitted with JASCO OceanObserver™ and nine channel hydrophone array.
JASCO's high performance passive acoustic data acquisition and processing system, the OceanObserver™ , capable of on-board, in-situ signal processing was integrated into both the Bluebottle and BO-MTS gliders, and near-real time whale detections were transmitted via Iridium satellite communications link to acoustic analysis around the globe for verification and validation by acoustic analysts. Near real-time in this context refers to data processing within 10 minutes of acquisition.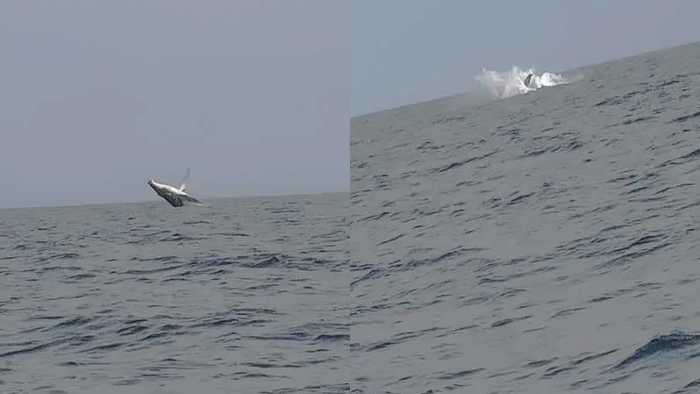 Whale breaching. Detected by radar and captured from Bluebottle high resolution zoom camera.
Ocius provided their 100% renewable energy USV, the Bluebottle, which was equipped with a JASCO OceanObserver™ and a low-frequency 9 channel towed array. This 16 metre array was integrated into the Bluebottle's keel winch with 60 metres of tow cable. The keel winch provided the ability to stow the array during adverse weather conditions and transit. The array and JASCO payload were installed and tested into the Bluebottle in three days. The Bluebottle was launched and recovered from a local boat ramp in Perth and autonomously sailed itself to the area of operation. The system processed data from the array and reported whale detections in real time. During the mission, while operating in a region with high currents, the Bluebottle operated at minimal throttle (less than 25% throttle) for over 66% of the mission and 55% of time with no propeller at all. "Minimal throttle makes our quiet platform even quieter. Towing an array, quietly and sustainably, is what the Bluebottle is designed to do" said Robert Dane, Founder and CEO of Ocius, acknowledging the anti-submarine warfare applications of the Bluebottle system.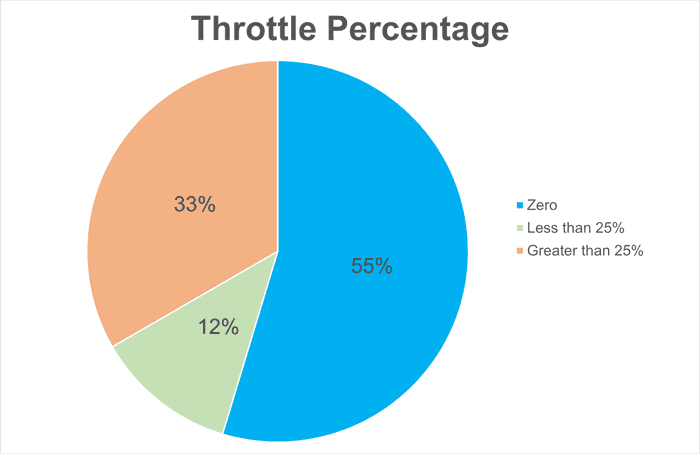 Graph of the throttle used during the mission.
Humpback whales spotted from the Bluebottle underwater camera.
BO-MTS deployed three Slocum glider AUVs, one equipped with a JASCO OceanObserver™ and four hydrophones, and the others with a JASCO AMAR G4 and a single hydrophone each. The battery powered gliders were tuned by BO-MTS to minimise self-noise. Data, including ambient noise, CTD information and marine mammal detections, were transmitted via Iridium satellite upon surfacing from the Observer glider, whilst the other two gliders only transmitted CTD information. All the data from these platforms was integrated into BO-MTS's new visualization software, SeaSuite, which provided meaningful real-time displays of the vehicles' locations and both non-confirmed and confirmed marine mammal localizations.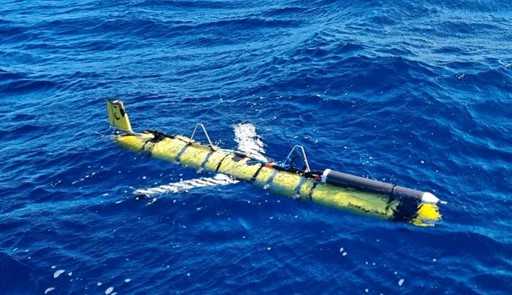 BO-MTS Slocum Glider fitted with JASCO OceanObserver™ and four hydrophones.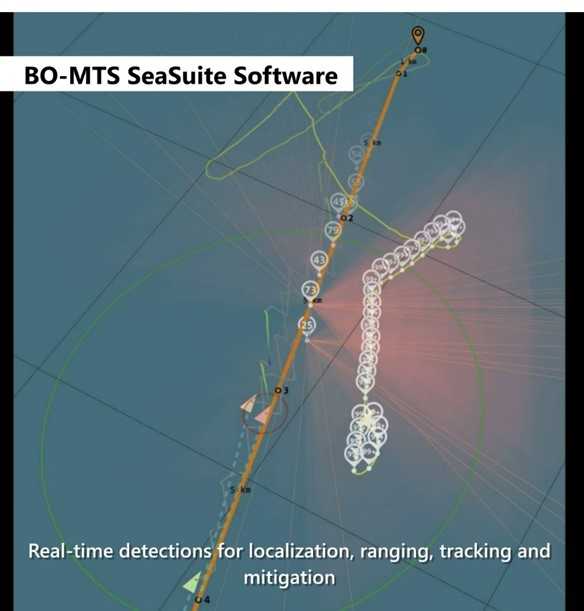 Example of direction/bearing detections from vehicles. Displayed on SeaSuite.
Over the course of the five-day mission, the combined efforts of these platforms successfully detected over 500,000 individual vocalisations. A number of these sounds were classified and localised in near real time. This demonstration underscored the feasibility of remotely accessing and controlling these vehicles, as well as the cost-effectiveness of logistics and piloting. Furthermore, it demonstrated the mission readiness of the systems, with seamless marine mammal detection and classification, from these innovative platforms.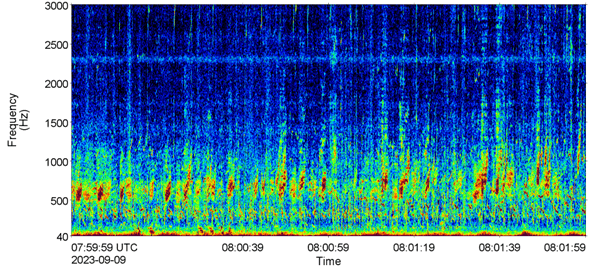 Spectrogram of humpback whale vocalisations collected during the demonstration.
"The Bluebottle is well suited to this type of work" said James Hodgson, Head of Operations for Ocius Technology. "The unique aspects of the boat (solar sail, rudder flipper) make it perfect for persistent deployment using very little energy. This allows more power to be given to the processing and detection of marine mammal species".
This collaborative effort holds particular significance for the offshore oil/gas and wind industry. Traditionally, monitoring marine mammals potentially affected by activities like seismic surveys, vessel operations, and piling has relied on certified Marine Mammal Observers (PSOs) onboard ships or aircraft. JASCO's experience in the field, combined with Bluebottle USVs and BO-MTS AUVs offers a more efficient, cost-effective, zero-carbon, and environmentally friendly alternative to traditional visual monitoring. Acoustic monitoring can now conduct monitoring from shore-based locations, reducing health and safety risks significantly.